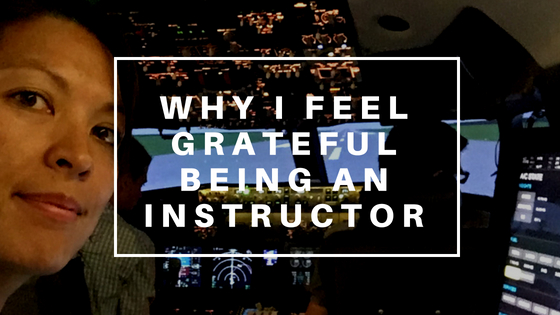 After I did my last flight as a first officer on the Boeing 737 four years ago, the world sort of stopped turning. Loosing your medical license is not something you expect at the age of 32 and I had a lot of trouble letting go of my flying career.
My heart is in aviation
The first 1,5 years after that happened I didn't want anything to do with flying, it was too painful. While time passed by, I slowly started to miss aviation. I always used to work in aviation. I've been an assistant floormanager at Amsterdam Airport Schiphol, a check-in agent for KLM, a cabin attendant for Transavia, a loadcontroller for KLM and finally a first officer and flight safety instructor for Transavia. And all that before the age of 25.
Obviously a new career outside of aviation would be the less confronting option, but I wouldn't be doing something where my heart lies. Because clearly that's in aviation.
As I love teaching, I searched for schools to instruct ATPL theory. I found one in a city near our hometown and started teaching flight planning, mass & balance, operational procedures, etc. Though the teaching itself was a lot of fun, I missed sharing my 'own' airplane knowledge. I started to explore if it was still possible for me to get my SFI (synthetic flight instructor) certificate for the Boeing 737. It was, but I had to do the course and apply for the certificate within 2 months. Luckily, I found an ATO where I could start immediately and everything worked out perfectly.
Finding the instructor job that suits me
Although I have 3200 hours on the B737NG, I found it quite difficult to find a freelance job as a type rating instructor without actual instructor experience. Fulltime is not an option due to my medical status. I'm 56% unfit to work, so having influence on the workdays and hours is important to me.
After instructing a few type rating sessions for a Spanish company and on & off assessment preparation for airlines in a simulator in Marbella, I recently found a great freelance job in Berlin that has more consistency. As I'm not flying in the actual operation anymore I need to work harder to keep all my knowledge to the high level I desire and having instructor sessions on a somewhat regular basis helps a lot.
I've been doing MCC and JOC sessions there and I absolutely love it. Training pilots with no experience in a multi pilot complex aircraft and seeing them improve quickly is very rewarding. And most importantly: to see that they are having fun. This is the last part of their aviation training before they can start applying for the airlines, so this is the cherry on top. As there are more opportunities for lowtimers, times are exciting for them now.
So back to the part where I said I was grateful. I'm grateful that this company is giving me the opportunity to do what I love. I'm grateful that my students are very motivated and that they make instructing fun. But most of all, I'm grateful for the fact that I found a new passion after losing my first one.
https://femalepilothub.com/wp-content/uploads/2018/10/Grateful.jpg
315
560
Kassandra
https://femalepilothub.com/wp-content/uploads/2018/06/logo-FPH-nieuw-midden-400px.png
Kassandra
2018-10-31 18:19:25
2021-02-07 09:12:32
I just came back from Berlin to instruct a few days of MCC in the Boeing 737 simulator and I felt really grateful. Why?